Perfection will be AI's Doom
Get your update on what's going on in the media and technology landscape every other week to your inbox.
Let's be Fwends is a journal about technology, experiences and the media landscape. And most importantly the role of all of us in all of that. It's about culture and it is about design. It's about marketing and it is about tech.
If you're interested in the bigger picture of digital design, this journal is for you.
Let's be Fwends is sent via MailChimp, an email markting platform. By clicking 'join now!' to submit this form, you acknowledge that the information you provide will be transferred to MailChimp for processing in accordance with their Privacy Policy and Terms.
Let's be Fwends #111:
Perfection will be AI's Doom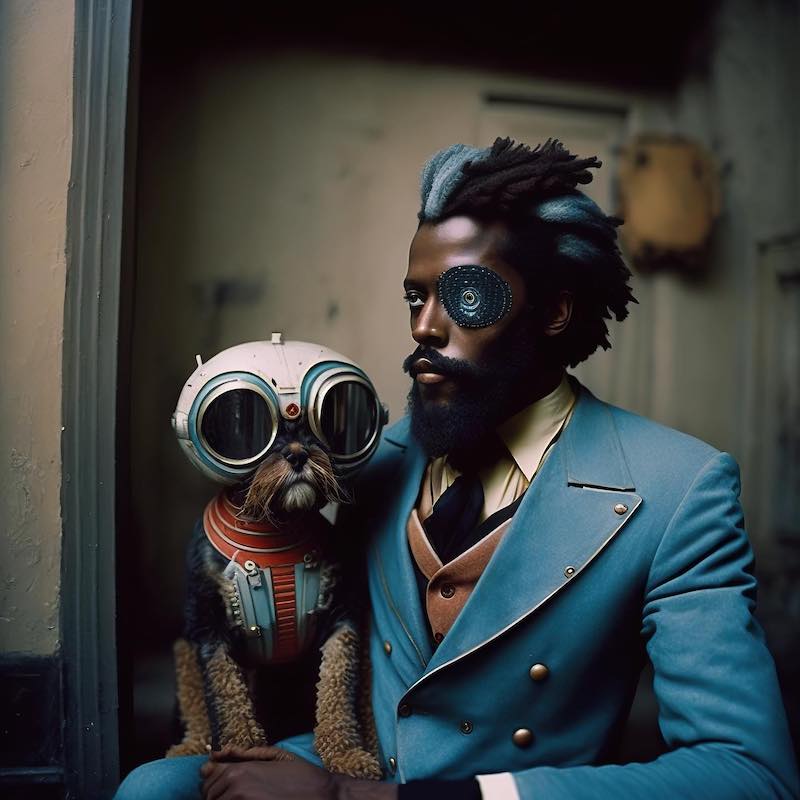 "A computer would deserve to be called intelligent if it could deceive a human into believing that it was human." ~ Alan Turing
How to Spot AI-generated Texts
With all the discussion about ChatGPT, its abilities to write impressive answers and generally reproduce human-written text (including lying, hand-waving and making up sources), and the fact that the tool is here to stay and is already creating content for news sites, the big question is: Can we detect AI-generated texts, and if so, how, and even more: Is it really important?
The MIT Technology Review shares some insights, and one of the key findings is that AI-generated text is too perfect. And OpenAI, the makers of ChatGPT just released a classifier to detect AI-generated text, but it is really bad at it.
A Complete (and Interestingly Weird) World Generated by AI on Instagram
Speaking of AI: The progress tools like Midjourney, Dall-e or Stable Diffusion have made is breath-taking. Have a look at THE VISUAL DOME on Instagram, an account fed by AI-generated images of a really weird world.
The Mystery of Holes
Here's a question to brighten up your day: What is a hole?
Or, to put it another way, how could you characterise a hole? The fictional philosopher Argle believes that since every hole has a hole-lining, the hole-lining itself is the hole. The equally fictional philosopher Bargle points out that things don't surround themselves. This wholly unsatisfactory debate is still unanswered, so if you ever want to have a fruitless debate on the Internets, "Holes" might be a good topic.
This enigma, and many more (most of them more serious) can be found at Wikenigma, a website documenting fundamental gaps in human knowledge.
A Gallery of Physical Visualisations
I guess one of the most prevalent elements of our culture is that visualisations are graphic in nature. Either on paper or on screen, they represent their object by using symbols and/or drawings of some kind.
Usually, the represented object is of physical nature (for example, a map, or the amount of goods sold). For my graphically trained brain, physical visualisations are both fascinating and mind-bending. How can an object represent another object? How would I physically represent this representing object? What's going on here, where is the exit and why is thinking suddenly so hard?
And there's also the maps from Greenland depicting a coastline and a series of islands I already featured.
A Twitter-Thread on Meditation
I picked up daily meditation again. But my sessions are only 10 minutes long, so I doubt I'll find out all the things in this Twitter-thread written by someone who meditated for 15 hours a day.
There are many interesting ideas in there, and if I had to pick one, it would be:
"Who you are is not your fault, but it is your responsibility."
That's it for this edition of Let's be Fwends, please do me a solid and be your own best buddy. You deserve it. 🧘
Let's be Fwends is sent via MailChimp, an email markting platform. By clicking 'join now!' to submit this form, you acknowledge that the information you provide will be transferred to MailChimp for processing in accordance with their Privacy Policy and Terms.